Photo Art Direction for The Mindcraft Project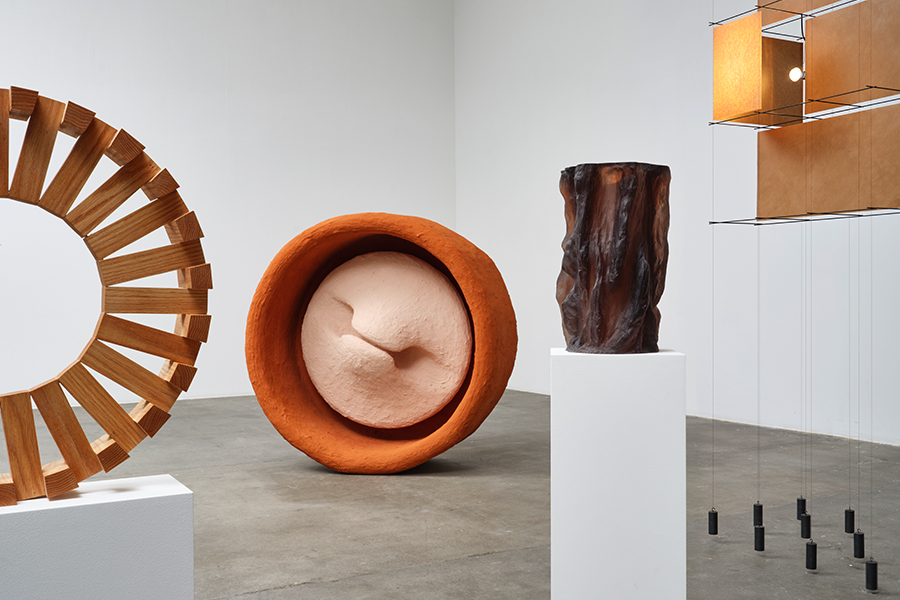 What a pleasure to art direct the photos for this years @mindcraftproject – Loved creating beautiful images alongside photographer Anders Sune Berg. The ambition was to let you get lost, and almost loose orientation in the mesmerising materials and work of twelve talented artists
Photo by Anders Sune Berg
Photo Art Direction Maria Bruun
Teaching MAD Summer School
Wegnerprisen 2022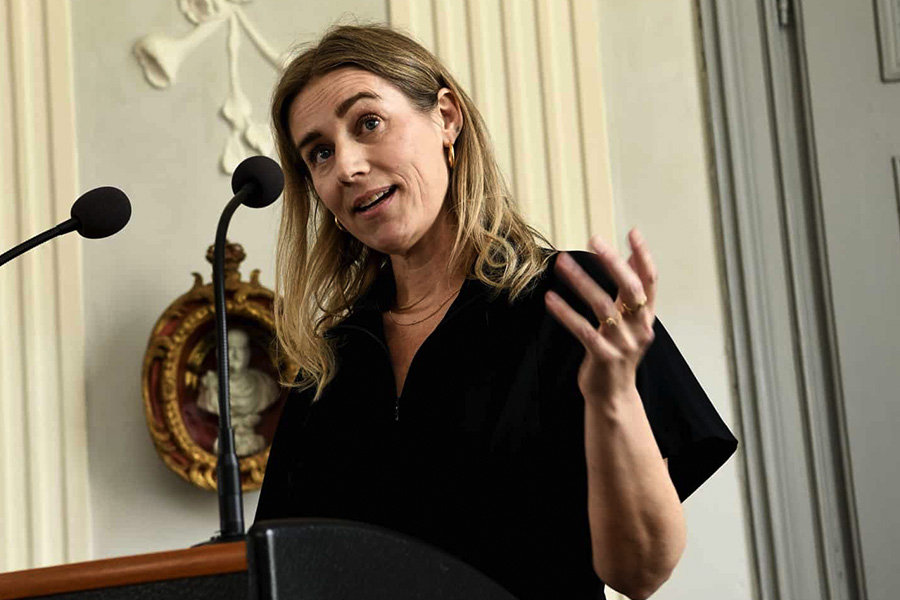 This year's Wegner Prize was awarded at Schackenborg Castle to Furniture Designer, Maria Bruun.
"The Danish furniture designer based in Copenhagen has manifested himself on the Danish as well as the international design scene in the last 10 years. 

"The jury agreed that this year's Wegner Prize should go to Maria Bruun, because she helps to maintain the unique positions of strength that Danish design and Danish craftsmanship have historically occupied – and continue to occupy" says Tønder Municipality's mayor, Jørgen Popp Petersen , who is also chairman of the Wegner prize jury that appoints the prize winner.
The jury adds in their motivation that Maria Bruun has proven herself at a relatively young age as one of Denmark's most important object and furniture designers, who, on top of that, has an unwavering 'Wegnerian' passion for wood as a material and adds: 

"Within the framework of a classic design concept, she possesses an honest and simple aesthetic approach to her furniture, where the timeless, tactile and sensual elements of wood are emphasised, while playing with form and thinking in function. In this work, she appears as a designer who at once challenges, but also has a clear starting point in the Nordic furniture tradition"
Dependables Boxes at Gallery St. Vincents
Design Curio – Reflected Surroundings
September 21-26, 2021
Preview day September 20
Design Miami/ Basel
Booth C/01
Hal 1 Süd, Messe Basel
Reflected Surroundings designed by Danish designer Maria Bruun is an immersive installation and collection of new furniture pieces consisting of full body mirrors in solid walnut, a stainless steel dining table with soft leather upholstered swivel chairs, stackable boxes in walnut and mouth-blown glass vases.
As a small microcosm the full collection is titled 'Reflected Surroundings', because through the objects I want to encourage reflection – upon oneself and upon one's belongings. Aesthetic self-awareness becomes possible when inviting the viewers into this sensuous space where every detail is carefully crafted.
Maria Bruun as new member of Danish Design Council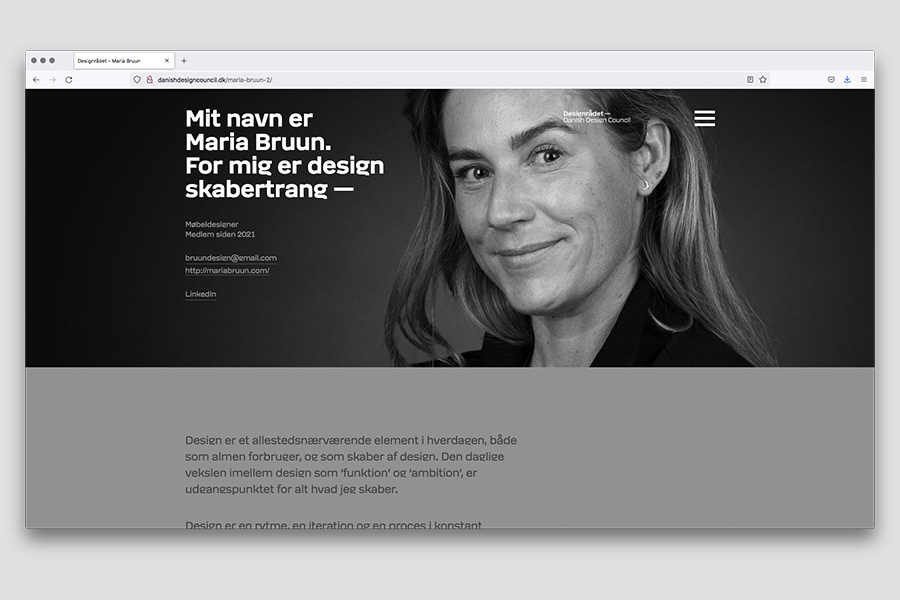 The Design Council is the think tank of the Danish design field. Our purpose is to promote Danish design by conceiving and exploring new perspectives on design. We call it design freethinking.The purpose of the Danish Design Council is to explore the concept of design and to show public and private decisionmakers how design creates intelligent solutions and new possibilities in our lives. Through new initiatives and discussions of value, we wish to qualify the public debate about design, influence design policies and create solid connections between design and society.
Maria Bruun awarded The Finn Juhl Prize 2021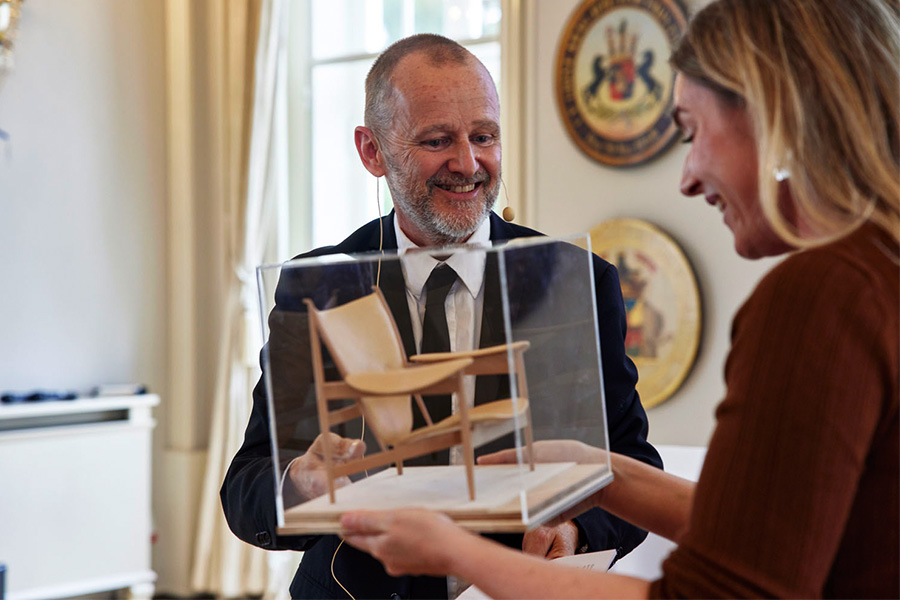 "Maria Bruun is rewarded for her approach to wood and a strong understanding of the paradoxical. The Wilhelm Hansen Foundation particularly highlights her Nordic Pioneer furniture, where pure, slender minimalism meets rounded plinths that almost pulls the table and armchair to melt against the floor. It is perfectly proportioned and lovingly detailed. A bold stool in the furniture series literally turns the entire upside down, with its lozenge-shaped seat carefully shaped in solid wood, but with reminders of an over-upholstered sitting experience," says scenographer Steffen Aarfing, who is a board member of the Wilhelm Hansen Foundation.
Between Spaces studio x viacuct
The Mindcraft Project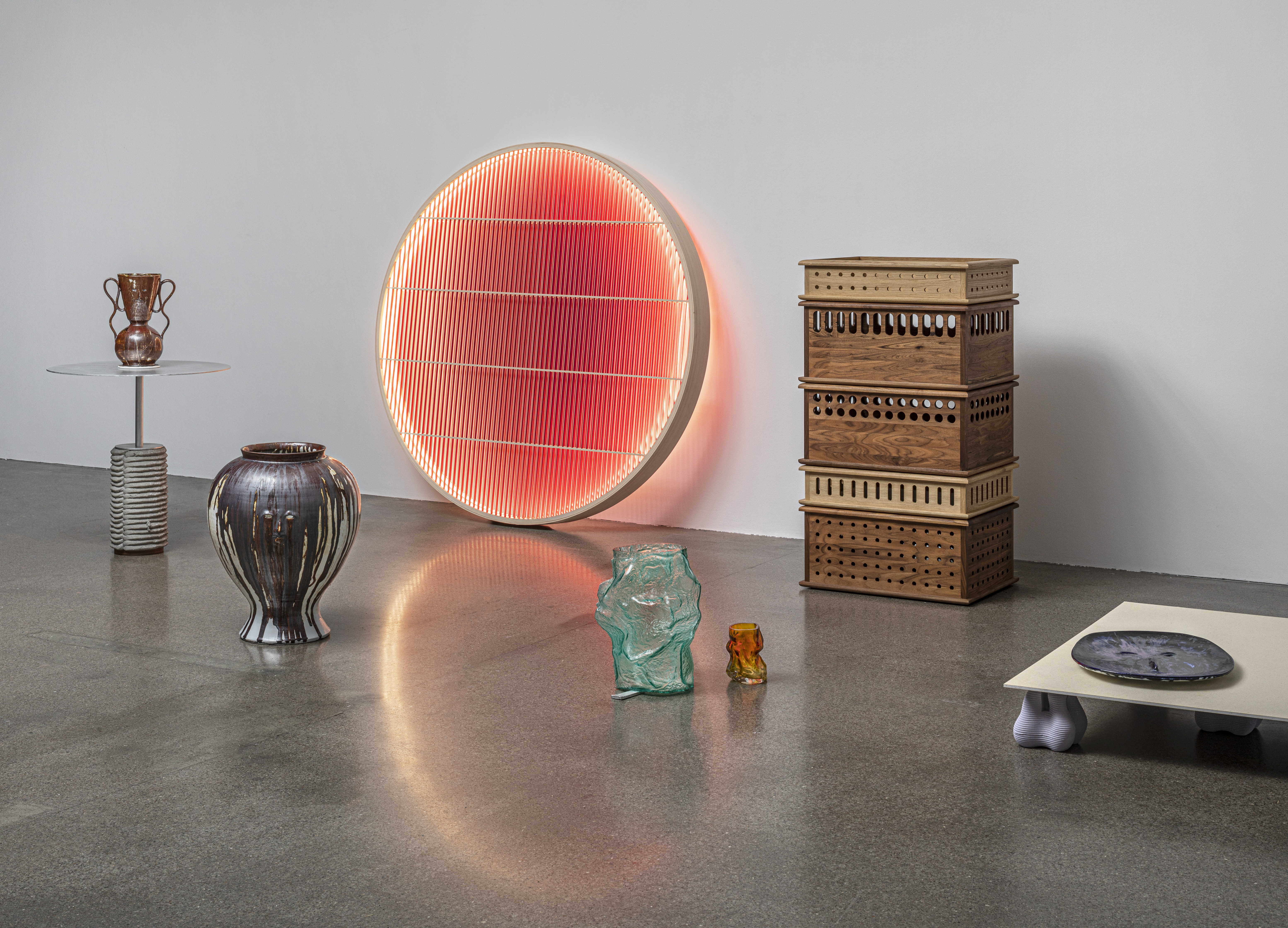 New Digital Exhibition Launches 16 June
Through videos, photos and visuals, The Mindcraft Project's digital exhibition will unfold a curated selection of artistic, research-driven and experimental design projects by:
Ane Lykke / Cathrine Raben Davidsen / FOS / Jonas Edvard / Kasper Kjeldgaard / Krøyer-Sætter-Lassen / Maria Bruun / Mathias Bengtsson / Norm Architects / Tanja Kirst 
Photo by Anders Sune Berg
Top emerging design talent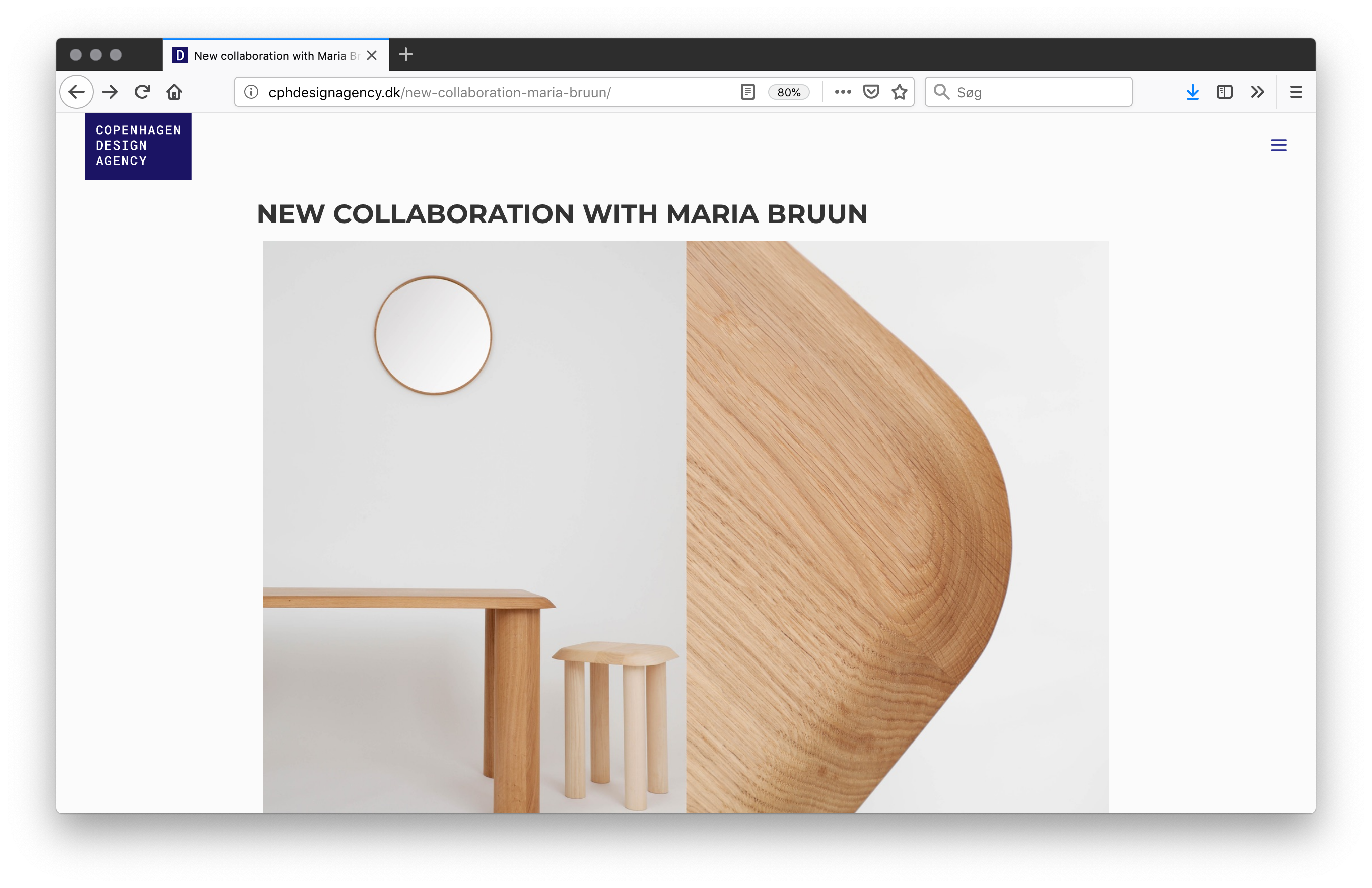 Maria Bruun selected as top emerging design talent by the Danish Arts Foundation. Copenhagen Design Agency to be main advisor for Maria Bruun. The studio has been selected as top emerging design talent by the Danish Arts Foundation. The foundation has chosen a total of 10 elite talents within all artistic fields. Maria Bruun receives a 2-year support program from the Danish Arts Foundation to promote and further develop her studio Maria Bruun Design.
Copenhagen Design Agency is the main advisor and project partner for Maria Bruun in the 2-year program.
Read the official statement from The Danish Arts Foundation here and from FAOD here.
Merry Merry…
Merry Merry What a Year….
2018 has been a productive year filled with amazing co-works, exhibitions and beautiful products. I want to thank you all for your cooperation and invaluable commitment!
Now and Then – Gallery FUMI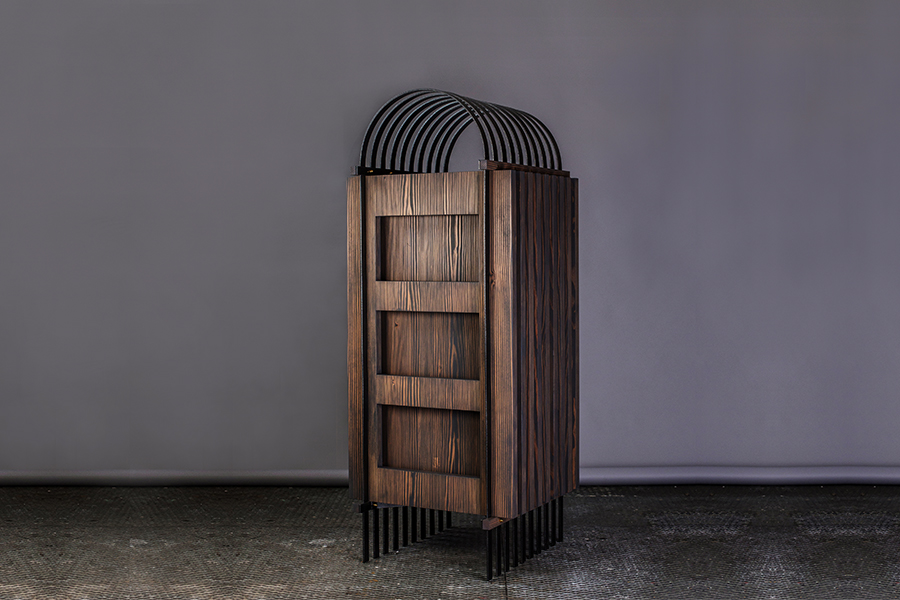 Presenting the commissioned piece RELIEF Tall Boy at  Gallery Fumi:
To mark its 10th anniversary, Gallery FUMI is proud to present a special exhibition 'Now and Then', charting the trajectory of the gallery's programme since its opening in 2008.
A celebration of the gallery's represented artists and designers, the exhibition will showcase a curated selection of key pieces created over the last 10 years, together with new, never-before-seen works, especially commissioned for the show. The exhibition will be curated by Libby Sellers with food design by Arabeschi di Latte.
Gallery FUMI
2 Hay Hill, Mayfair
W1J 6AS
15 ‐ 30 September 2018
Dezeen Awards – Emerging Designer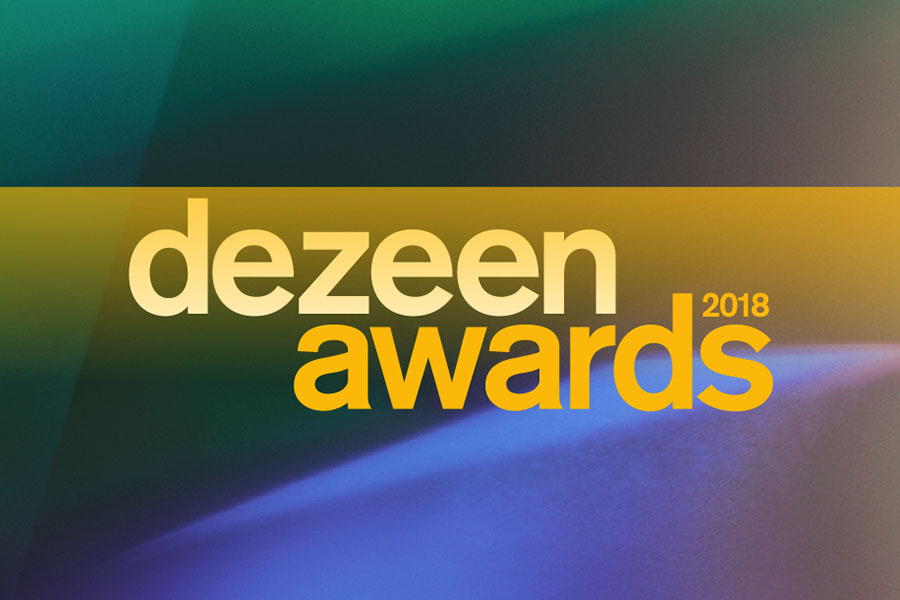 Very excited to be long listed for Dezeen Awards 2018 as Emerging Designer of the year among so many talented designers. What an honour to be included in this international prestigious list. Fingers crossed until the final announcement in November.